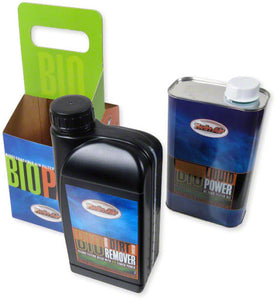 Twin Air Bio Pak / Oil and Cleaner Kit

Boost your bike's performance with the first biodegradable air filter oil and cleaner that perform in all riding conditions.
Twin Air Bio Power Oil prevents dirt, dust and even water from entering your intake system and the specially formulated base allows easy, even penetration which dissipates quickly to form a super-sticky, dirt-grabbing shield.
Whether you prefer to hand wash your filter in a bucket or sink, the patented formula Bio Cleaner granular water-soluble cleaner can go right down the drain without clogging or harming the environment.
Unlike solvent based oils and cleaners Bio Cleaner will not harden or damage filter foam after repeated washes of up to 30+ times.
Includes:
Bio Oil and Bio Cleaner in a convenient carrying case
800ml bottle of Bio Dirt Remover
1 Liter can of Bio Liquid Power filter oil
https://motocrossactionmag.com/true-confession-of-an-air-filter-abuser/