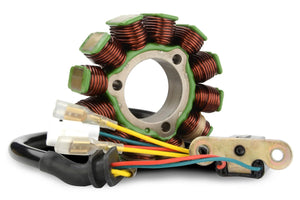 Trail Tech Stators are an excellent product for anyone who loves to ride off-road and wants reliable electrical power for their motorcycle. Here are some of the benefits of Trail Tech Stators:
Improved Electrical Output:

 

The Trail Tech stator provides a high-quality output necessary for powering all your off-road accessories. With a Trail Tech stator, you can confidently add auxiliary lights, heated grips, GPS devices, or any other electrical accessory you need to make your motorcycle more capable and the ride more enjoyable.
Durable and Long-Lasting:

 

Trail Tech stators are designed to withstand harsh off-road environments, and they are made with high-quality materials and are built to last. With a Trail Tech Stator, you can be confident that your electrical system will be reliable to support your riding needs.
Easy to Install:

 

Installing a Trail Tech stator is a simple process that can be done in just a few hours. With the included instructions and all necessary hardware, you'll have your stock stator swapped out for your new stator and ready to use in no time.
80 Watt DC (Stator only)
Trail Tech Stators replace the OEM stator with a significantly increased power output
Eliminate the dimming effect often experienced when an AC-powered machine is idling or shifting between gears by converting the lighting harness to DC power
Manufactured with superior craftsmanship to deliver top performance for serious riders
All Trail Tech stators are custom-made by Trail Tech, not re-wound OEM cores
All kits use model specific connections with no cutting or splicing needed to install. Some kits also include a regulator/rectifier.
AC power is not available for accessories when using a Trail Tech DC regulator/rectifier
DC systems will not function without a battery or capacitor in the system