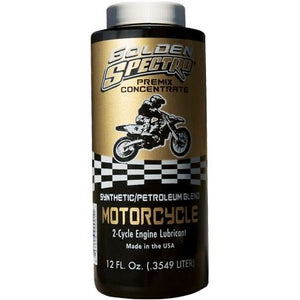 Golden Spectro Two-Cycle Pre-Mix Blend is the two-cycle engine lubricant that built our reputation. Probably the winningest oil out there. Since 1966 this oil has probably been in more podium bikes then any other brand of premix oil.
In fact the history of the Golden Spectro oil goes back over 40 years when John Penton discovered a unique synthetic lubricant product that Spectro had developed and began to market it under the "Hi-Point" brand that included apparel, parts, tires and more – all developed for the off-road motorcycle racer and enthusiast. Mr. Penton knew that Spectro's superior quality and performance was just what he was looking for to package as a Hi-Point product. Spectro Oils packaged various products as Hi-Point including synthetic blends for two- and four-stroke engines, two-stroke injector, gear lube, fork oils, chain lube and filter fluid all produced by Spectro. 1966 also happens to be the year when John and KTM began importing the Austrian machines to the US under the Penton brand.
Because we significantly reduce excessive solvents (present in most two-cycle blends), running Golden Spectro® Two-Cycle Pre-Mix Blend at leaner ratios provides a higher level of detonation protection, stops plug fouling and smoking.
Use according to motorcycle manufacturers' recommendations, or at 50:1; this product exceeds API TC test requirements.
Pre mix use only, not for use in oil injection systems.