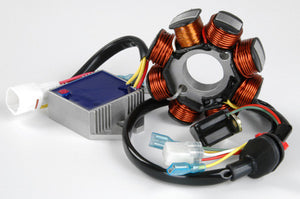 Fits: KTM 4stk 450/525/530 EXC-Racing/EXC-R/EXC Champions Edition (EXC Bikes that come with Turn Signals and Key Switch)
Includes: Stator and Switching Reg/Rec

•Trail Tech stators replace the OEM stator.
•Trail Tech stators increase power output significantly from 55 watts AC for lighting and accessories to 100 watts DC. 
•Custom made by Trail Tech, not purchased from bike manufacturers and rewound.
•DC stators compatible with Trail Tech lighting systems of equal or lesser power
•Manufactured with superior craftsmanship and performance for serious riders •Most kits are plug and play replacements.