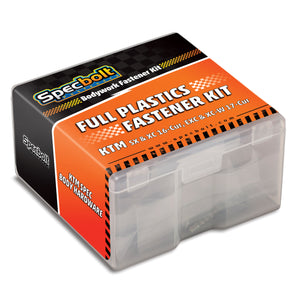 Full Plastics Fastener Kit
Details:
Made specifically for the KTM SX, XC, XC-W and EXC this plastics fastener kit comes with full instructions. True OEM style bolt kit fits: 2016-Current & EXC/XC-W 2017-Current Model KTM Dirtbikes
Replace all of your KTM plastic's / body panel fasteners at once using these correct original style fasteners.
You get this complete kit which includes everything you need for the plastics on your KTM dirt bike body,
it Includes all the hard to get Factory shoulder bolts. Also Includes an individual OEM Match fastener Package for each of the following: Front Fender & Number Plate Fork Guards Radiator Shrouds Rear fender Seat & Side Panels
Don't get caught working on your bike and not having the right fasteners again!
Fitment:

KTM 2016 SX, XC
KTM 2017 SX, XC, XC-W, EXC
KTM 2018 SX, XC, XC-W, EXC
KTM 2019 SX, XC, XC-W, EXC
KTM 2020 SX, XC, XC-W, EXC