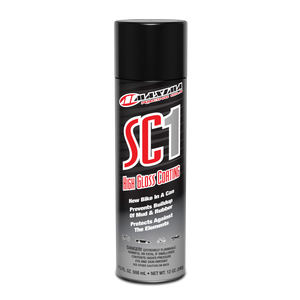 The NUMBER 1 bike cleaning and polishing product on the planet. 
And the smell - an all time favorite.
The original and unrivaled "New Bike in a Can", SC1 truly restores that factory shine and lives up to the claim. SC1 high gloss coating is specifically formulated to protect and beautify multiple surfaces including plastic, vinyl, rubber and carbon fiber.
Water-resistant formulation is safe for use on gloss or matte finishes and makes the clean-up process easier by forming a durable coating that repels mud, dirt and debris.
Can be applied and left untouched or allowed to setup and be buffed to a dry sheen, leaving a long-lasting luster.