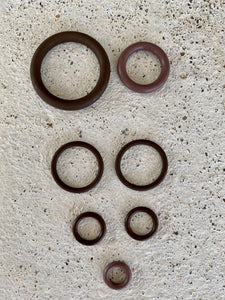 Replace all the o-rings in your fuel system with our heavy duty viton polymer (fluorocarbon type A) rings that exceed the OE ring standards and are safe for all pump gas, ethanol fuels, av-gas, race fuels, rocket fuel, straight wood grain alcohol or whatever voodoo potion it is you run you bike on, no judgement.
Includes all the rings for any year fuel injected Husaberg, KTM, or Husqvarna 125-570 dirt bikes.
Also includes (2) rings for the fuel tank quick disconnect fitting, keep one as a spare in your tool kit.
ProTip here fellas - grease the tank quick disconnect ring before installing to minimize the chance of tearing or damaging it and always grease an o-ring that goes between two parts that are twisted or screwed together.
Fitment:  2015-23 KTM/HUS