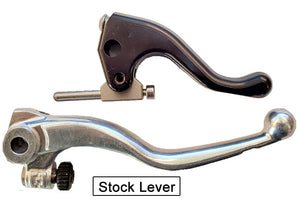 BrakTec 10% force reduction – Extra Shorty (BT1B) Brake Fits:
* Fits both clutch and brake master cylinders  -  also see BT1C*
21-22 Gas Gas EC 250/250F/300/350F
22 Husqvarna TE/FE 150-501  
Does NOT fit the TX, TC, FX, or FC -  these bikes use the Brembo B2B
*Please Note:
Either of the BrakTec levers can be used as a clutch or as a brake lever. 
The BT1C is a 30% force reduction, two finger lever. 
The BT1B is a 10% force reduction, one finger lever. 
The ideal setup for me is to use the BT1C on the clutch master cylinder and the BT1B on the brake MC.