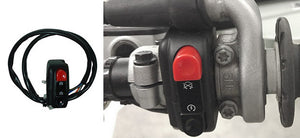 Lets just be honest - separate start and kill buttons take up bar space and clutter the cockpit. Especially if you have a lot going on with your bar set up. 
Simplify and save space w the Sicass dual function start / kill switch. 

Completely plug and play, installs in 10 mi​​n.
FITMENT:
26-051:
2004-06 KTM EXC
2007-16 KTM SXF/XCF/XCW 4 Stroke
2008-18 KTM 250/300 XC/XCW 2 Stroke
2017-19 KTM 125-500

 

*NOT EXC
2013-14 Husaberg

 

*NOT S MODELS
2014-16 Husqvarna

 

*NOT S MODELS
2017+ Husqvarna

 

*NOT FE
2018+ KTM XCW TPI
2018+ HQV TEi
26-049:
26-052:

2012-16 KTM 350 EXC-F

2012-16 KTM 500 EXC

2010 KTM 690

2014-16 Husqvarna FE-S
26-056:
2017+ KTM EXC/EXC-F
2017+ HQV FE
26-060:
2022-23 KTM SX-F Factory Editions
2022-23 HQV Rockstar Edition
2023-24 KTM SX-F/XC-F
2023-24 KTM SX/XC TBI
2024 KTM XCW/XCF-W/XW-F
2023-24 HQV FC/FX
2023-24 HQV TC/TX TBI
2024 HQV FE/TE/FE-w/TE Pro
2024 GASGAS 125-500