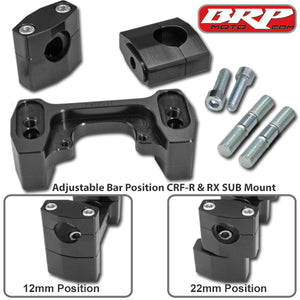 DESCRIPTION
This SUB Mount allows you to run the bars in two positions: 12mm or 22mm in front of steering stem. Stock Bar position is 14mm in front of steering stem. Handlebar height is raised by 22.5mm. If you wish to keep your bars at the stock height we recommend using a Pro-Taper Steering Damper Low.
The BRP SUB "Scotts Under Bar" Mount is the latest in stabilizer mounting options and is a very popular setup for GP's, motocross, off road, dual sport and riders of taller stature. Our SUB Mount is designed to run 1 1/8″ ProTaper style handlebar and mount a Scotts stabilizer below the handlebar replacing the bar mount assembly on your OEM, BRP or Scotts triple clamp. The SUB Mount setup offers several benefits over a conventional "above bar" stabilizer setup.
Reduced risk of injury by coming into contact with stabilizer
Approximately 1″ taller bar position on most models
Enables you to run a bar pad for 1 more level of protection
BRP SUB Mounts are designed exclusively to fit OEM, BRP or Scotts triple clamps. In some cases we may have one that will work on other aftermarket triple clamps. If you have a triple clamp other than OEM, BRP or Scotts; please contact us to see if we have an application that will work.
BRP is an authorized Scotts Stabilizer Dealer and Service center with an extensive knowledge of stabilizer mounting applications. We have a complete line of stabilizer mounting applications and replacement parts. When it comes to service we offer complete service on all Scotts stabilizers.
SPECIAL NOTES:
When running a Scotts stabilizer in the SUB Mount configuration the arm will need to be reversed mounted. Using a lower bend bar can often emulate the stock bar height. Due to the SUB Mounts increased height, triple clamp style enduro handguard mounts will not work with many bar bends so we recommend running the BRP BMI-9254 Hand Guard Mounts.