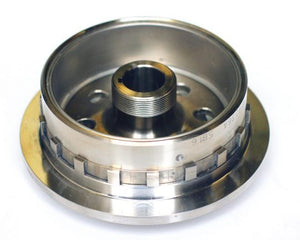 FLYWHEEL WEIGHT
Add 7 ounces of flywheel weight to reduce stalling, make the power easier to control, and make it more chugable in technical sections. 
Kit includes weight ring, installation tool, replacement cam chain guide bolt and bushing, and detailed instructions. The installation can be done by someone with average mechanical abilities
Installation Procedure Summary: You must remove the rotor (stock flywheel) from the engine using the proper flywheel puller. The weight ring is permanently attached to the rotor by means of an interference (press) fit. A special tool is included which will help you press the weight ring onto the rotor without the use of a hydraulic press. Additional items you will need to have: Common mechanics hand tools, flywheel puller (Steahly part number E-73 or similar), a metal hammer, a torque wrench, and some metal cleaner such as contact cleaner. 
Requires a flywheel puller and holder for installtation. 
Fitment:
19-24 CRF 450 L, RL, X
Reduces stalling
Smoother, more controlled and tractable power delivery
Adds 7 ounces
trail and enduro riders will love the extra flywheel weight
Made in USA