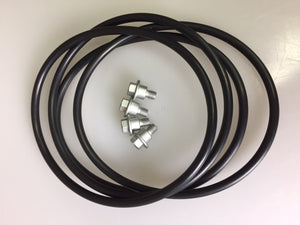 (4) SPECIAL SHOULDER BOLTS
(4) HEAVY STRAPS

These Strap kits allow the plastic radiator shrouds to be mounted to our radiator guards using rubber straps instead of bolting through the radiator shrouds into our guards.  The rubber straps allow the shrouds to float and flex upon impacts with saplings, bushes, rocks and roots.  Save your plastic shrouds from the bolt tearing out the mounting hole and destroying a set of shrouds.  
Works with all KTM-RG-19, HUQ-RG-19, GAS-RG-21 Radiator Guards.