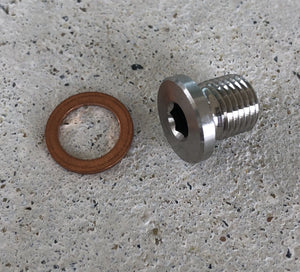 If you've converted your bike to an 'off road race use only' machine with a race ECU like the Vortex or GET or a race piggyback tuner like the Dynojet Power Commander with exclusive Taco Moto Co. tuning use this plug to remove and safe off the O2 sensor.
Cleans up the look of the exhaust header and removes the possibility of damaging the expensive O2 sensor in a crash. 
The Taco Moto Co. exclusive O2 header plug is CNC machined from billet Austenitic stainless steel specially for Taco Moto Co.
Stainless steel header plug won't distort or foul the bung threads and makes removal for re installation of the O2 sensor simple and painless.
Your bike may not be legal for street use in the US with these mods performed. Check local and federal emissions laws to confirm compliance.