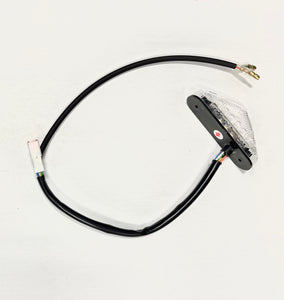 Upgrade the oem running light on the rear of your 20+ Beta trail bike to a Taco Moto Co Tidy Tail light and get TURN, RUN, and BRAKE functions all in one housing. 
Note on the video: we show the removal of the stock dual sport tail section and install a complete new tail unit with the light already attached as received from us. If you're only replacing the oem Beta tail light on your trail bike with the Tidy Light the procedure will be the same  but the TIdy Light will be installed on your oem rear under fender. However if you'd like to upgrade your underfender to our unit in red or black you can order that option HERE
You will need to add an LED compatible Beta relay flasher if you don't already have one  LED FLASHER (only one flasher needed per bike)
Pair the Tidy Tail light with our Fork Wrap 360 front signals for the ultimate lighting package.
Installs in under 30 min
Beta OEM connectors for plug and play simplicity
Installs with only a few simple hand tools 
No signals to break, vibrate off, interfere with bags or racks or melt from the hot exhaust
Super clean 'all in one' design 
Water tight light assembly with rubber wire entrance grommet 
Clear lens with magnification refractors molded into the viewing area
12 super bright red LEDs at full intensity for brake function (the most of any aftermarket light) 
12 super bright red LED's at 50% intensity for running light function (the most of any aftermarket light) 
6 super bright yellow LED's at full intensity for turn signal function in either direction 
Add optional pre wired brake light pulsar module (pluses the light for 4 seconds before glowing steady)
Lifetime warranty on light 
As featured on a bike build on the cover of Dirt Bike Magazine VIDEO
FITMENT: 20+ BETA motorcycles
INCLUDED IN THE KIT:
Plug and play all-in-one combo light
Optional plate hold if ordered
Optional brake light pulsar if ordered
 NOTE:  Aftermarket lighting products are not DOT approved and may or may not be legal for highway use in your local area. Please consult the highway laws of your state prior to purchase.