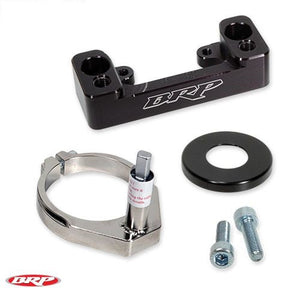 This kit is designed for those of you who already have a Scotts stabilizer and frame bracket and would like to go sub mounted. Kit includes Sub adapter, frame bracket and all necessary hardware.
Designed to mount a Scotts stabilizer below the handlebar using your OEM cast or billet triple clamp. The BRP SUB adapter mounts to the existing rear bar mount holes and allows you to run in position 3 or 4. SUB Mounting a stabilizer offers several benefits over a conventional "above bar" setup and is becoming a very popular setup for GP's, motocross, off road, dual sport applications and riders of taller stature.
Offers an approximately 1" taller bar position
Scotts legendary steering stabilizer 
Available as the bar mounting system only or add a Scotts Stabilizer for a complete kit
SUB Mounting reduces the risk of injury
Enables you to run 2 different bar positions
SPECIAL NOTES:
When running a stabilizer in the sub mount configuration, the stabilizer link arm will need to be reverse mounted "going under the body of the unit".
Please note:  does NOT include Scotts Stabilizer.