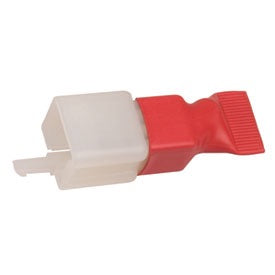 Quickly remove and eliminate the OEM key switch. Simple plug in installation, the fuel pump kicks on and pressurizes the system with a tap of the start button.
The key eliminator is NOT the same as leaving the key on, it actually bypasses and eliminates the key switch (you have to unplug the key switch from the wiring harness for the dongle to work properly).
The dongle reroutes how the power is delivered to the fuel pump. On 2017-19 EXC's the fuel pump power is routed through the stock key switch, key on = fuel pump powered up.
This is why you kill the battery when you leave the key on. With the dongle installed the power to the fuel pump is re-routed through a power relay already on the bike that's activated when you tap the start button and energized while the motor is running. When the engine shuts off power is removed and the bike 'goes to sleep'. No more dead batteries. 
FITMENT:
26-231
26-233
2012-16 KTM EXC/EXC-F

2014-16 HQV FE-S
*DOES NOT FIT:

2017 KTM EXC/EXC-F

2017 HQV FE
26-234
2017-2024 KTM EXC, EXC-F, FE, FEs

2019 model year only - KTM EXC/EXC-F *ONLY WORKS WITH INSTALL OF 26-056

2019 model year only - HQV FE *ONLY WORKS WITH INSTALL OF 26-056