The first the original.
OX-BRAKE "Auxiliary Braking System" is a cable actuated left-hand rear braking system (LHRB). It's an extremely effective and functional auxiliary hand brake. The OX-BRAKE design offers enhanced braking control and incredible power that can allow you to lock up the rear wheel with just two fingers.
OX-BRAKE is great for off camber turns, downhill switchbacks, or bull dogging your bike on nasty downhills. OX-BRAKE is one of those accessories that you will grow to appreciate with each ride and soon you will be wondering how you rode without one.
Quick and Easy Installation
Doesn't Clutter Controls
Enhanced Braking Control
On-The-Fly Adjust-ability
No Brake Bleeding Required
OEM Rear Brake System Unaffected by OX-BRAKE
DirtRider Tested and Praised for Function and Quality
Pair the OX-Brake system to the Rekluse auto-clutch for the ultimate single track machine. 
NOTE: This product is designed for closed course or off-road use ONLY, not designed or approved for use on public roads.
FITMENT NOTE: All EXC and FE street legal bikes with the stock left hand multifunction switch will need to replace that large and bulky switch with a slimmer SICASS RACING SLIM SWITCH for there to be enough clearance for the use of the OX Brake System. 
Fits all +2005, 125-530cc KTM and Husqvarna two and four stroke bikes
SPECIFY BIKE AND YEAR in check out order notes.
OX-Brake is a start-up company as a result of a new rider enhancement.  After many years, (58 years) of off road riding and benefiting from other product development, I guess it was my time to contribute to the off road Rider, with a product to benefit the Rider.
After 1 ½ years of development and testing on several different motorcycles and Riders, the "OX-Brake" Auxiliary Brake was born. A new, simple concept for Left Hand Rear Braking.
Ox-Brake a small company located in Colorado where there is some great single track riding in the Rocky Mountains. The trails consist of many different types of technical challenges, rocks, water, narrow trails, trails on ridges, steep vertical ascents, descents, switchbacks, and not to overlook, trees. Utah not being far from my home in Lakewood, CO also provides some excellent riding and different challenges. Those of us who have had the opportunity to ride in the MOAB, Utah area, also understand the need for good speed control, as well as what you do if you don't make the hill, the engine shut is off and you have an Auto clutch. How do you control descent when you are sliding backward down the hill you did not make, the answer, "OX-Brake".
The best components and workmanship are almost never the least expensive. We understand when it is time to ride, you do not want to be fixing something because it was produced with substandard parts, or not properly tested. When you are riding you want to rely on the product to be functional and dependable, you did not sign up to be a test rider for a product.  We are committed to do these things for you.
Fitment:
KTH-220 - OX-BRAKE "2"  Brembo Brake System
KTM 2005+ 125-530cc EXC, SX, XC, XCW, 6 DAYS (All 2 & 4 stroke models)
HUSQVARNA 2014+ 125-501cc, All models with BREMBO brakes: TE, TC, FE,FC,S
HUSQVARNA 2018+ 125-501cc, TC/FC, All with BREMBO brakes (2 & 4 stroke)
KTH-224 - OX-BRAKE "2" Magura Brake System
2018+ 125-501cc, TE,TX &FE/FX with MAGURA brakes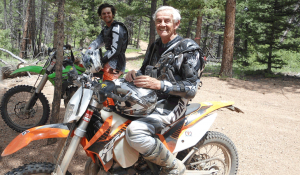 Chuck Schueller
OX-MOTORCYCLE PRODUCTS,LLC